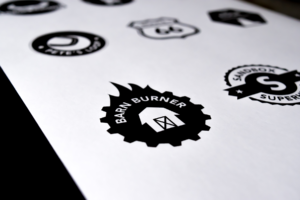 When the Kingston, Ontario mountain bike club approached me about doing some cool badges and sticker design for their youth members, my mind starting racing faster than a lycra-wearing, shaved-legged, 29er riding, weight-weenie, hardcore XC racer geek (which I might be).
Fortunately for me, my talented graphic design placement student Sarah Spriggs (@spriggsdesign) from St. Lawrence College's 3 year design program was around to collaborate and do some production on the badge sticker design.
We developed a black and white colour scheme in order to be versatile and match the trends, styles and colours in the current mountain bike industry. The designs should go with all frame colours and appeal to riders of all ages, from the youth club member to the older masters of the trails.
We tried to align the visuals on each badge with the characteristics of the trail the badges represent. I am familiar with all the trails and tried to build the features of the trail into the badge.
The badge design will specifically encourage the development of youth mountain biking and cycling in Kingston, Ontario. A strong riding club contributes to the well being of the community by fostering and advancing progressive attitudes in general towards cycling, the environment, and a healthy lifestyle,
We were proud to be a part of this project.